WWU Design Program
| | |
| --- | --- |
| Client | WWU Design Department |
| Methods | Illustrator, Photoshop, XHTML, CSS, PHP, Mootools javascript effect library |
Every year the graduating class from the WWU Design Program creates a website to serve as an online portfolio for the work they've done and to kick start their future in the design field.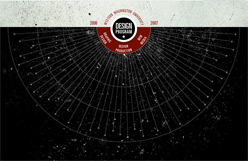 Before beginning development on the website for the class of 2007, I first looked back at the websites for previous graduating classes. All of these sites were done using a single Flash file so that it prevented any possibility for a listing in a search engine or for directly linking to a specific page. Furthermore, the entire site would be removed every year, thus further hindering the usefulness of the information. I set out to solve all of these problems and make a website that would be simple yet serve to truly promote the impressive work of each student.
The initial design concept was created by Joe Shoop in Illustrator for a printed book that was also showcasing the work of the graduating students. To realize the same concept in another medium, I first rebuilt the design layer by layer in Photoshop then used absolute positioning and some simple Javascript effects with the Mootools library. The design was meant to be extremely simple and unobtrusive. I then focused on the information hierarchy.
In consideration for the persistence of the site I first made sure each year's website resided on its own sub-domain. Then using Apache mod_rewrite and MySQL I made sure that the permanent link for each person contained their name. Using these simple information hierarchy and search engine optimization techniques has resulted in extremely good visibility for each student. A search in Google now places almost every student at the very top of the results with their personal website, or if they don't have one, their page on this website.